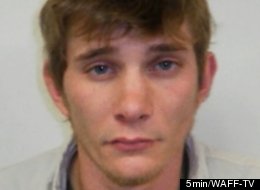 An Alabama man led police on a pursuit, and escaped, after being arrested for a DUI. 24-year-old Matthew Todd was arrested for a DUI, and was then taken to an area hospital for the injuries he sustained during the first crash. While waiting for a hospital room, Todd convinced the hospital workers to allow him to go outside for a cigarette. Once he was outside, he abandoned the cigarette and hopped into an already running ambulance in front of the hospital.
Todd was unable to get the ambulance very far, so he entered a nearby barn and attempted to saddle two horses. When his second plan didn't pan out, he stole an SUV and tried to drive home. Instead, he crashed the SUV, totaling it in the process. After that he found an additional car, and this time was able to drive himself home.
The next morning, Todd returned to the emergency room to have his wounds from the first crash tended to. Hospital employees recognized him as 'the man who tried to steal their ambulance,' and called the authorities. Todd was arrested again for his DUI, and is now also charged with his series of getaway attempts. He is going to need a very good DUI attorney to help him try to avoid jail.